Blue Ridge Shadows is a 
Virginia golf public course 
designed by Tom Clark. It is a classic course, offering breathtaking beauty and fair challenges. The course meanders through hardwood forests, split fairways, double greens, elevation changes, and a spectacular waterfall. The eighteen hole layout begins atop a small knoll with panoramic views and ends with a risk reward par 4 fronted by Crooked Run Creek and framed by our 60-foot waterfall just behind the 18th green. 
Here are the various tee markers for the par 72 course:
Black – 7315 yards, USGA course rating 75.5, USGA slope rating 143.
Blue – 6787 yards, USGA course rating 73.1, USGA slope rating 138.
White – 6204 yards, USGA course raring 70.4, USGA slope rating 130.
Gold – 5551 yards, USGA course rating 68.2, USGA slope rating 122.
Red – 5006 yards, USGA course rating 70.0, USGA slope rating 120.
The practice complex has multiple grass tees, a large putting green, and a chipping/bunker practice area that allows you the opportunity to hone your skills. The Virginia golf public course at Blue Ridge Shadows offers the complete playing package of beauty, challenge, and fairness. If you are interested in Blue Ridge Shadows Resort, and Virginia golf public course, please call us at 540.631.9661 or 1.866.631.9661 and email us at info@blueridgeshadows.com. Virginia golf public course  VIRGINIA GOLF PUBLIC COURSE  Virginia golf public course  Virginia golf public courseComing soon.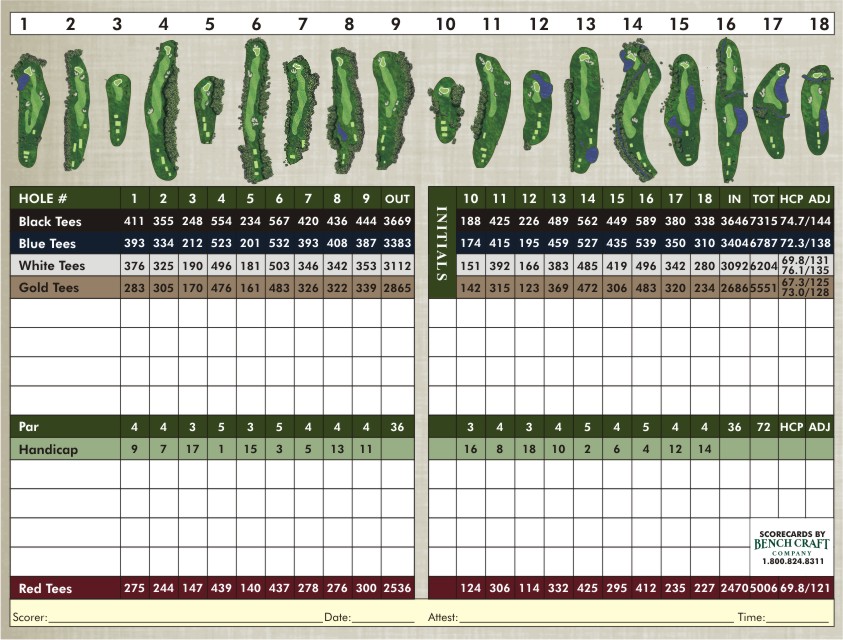 2014
Named one of Virginias top scenic courses by the state website, Virginia.org
2010 – 2011
Golf Digest Woman – #32 on America's Top 50 Courses for Women

Golf World Magazine – top 14 in Virginia Reader's Choice Awards

Golfweek Magazine – #4 Best Courses You Can Play in Virginia
2009
Golfweek Magazine – #3 Best Courses You Can Play in Virginia

Golfstyles Magazine – Top 100 Mid-Atlantic Must Play Courses
2008
Golfweek Magazine – #14 Best New Courses in America, 2007 – 2008

Golfstyles Magazine – Top 100 Mid-Atlantic Must Play Courses

Waggle.com – 'An exceptional golf outing venue'
2007
Golf Digest Magazine – #6 Best New Affordable Public Course in America

Golfstyles Magazine – Top 100 MidAtlantic Must Play Courses

Pros n Hackers Magazine – #1 Best Value Course

Washington Post – A Natural Treasure

Pros n Hackers Magazine – Top 10 Best Conditions

The Golf Guide Magazine – 'A Breathtaking Tour de Force'

Pros n Hackers Magazine – Top 10 Design and Layout

Virginia Golfer Magazine – 'Bliss in the Blue Ridge'

Golfin Amigos – 'A perfect setting when course and nature become one'
If you are interested in Blue Ridge Shadows Resort, and Virginia golf awards please call us at 540.631.9661 or 1.866.631.9661 and email us at info@blueridgeshadows.com
456 Shadows Drive
Front Royal, VA 22630
540.631.9661
1.866.631.9661